Near our neighborhood of Dublin (just east of
Merrion
) runs
Sandymount Strand
, one of the city's most famous beaches.
Strand
itself is a UK/Irish word used to describe beaches of all kinds. That isn't to say that they don't use
beach
as well, but most large stretches of seaside sand (and any roads that follow them) will be called a strand.
Heck, Sandymount Strand was even deemed worthy by four Irish boys who made good. Seen here photographed in 1980.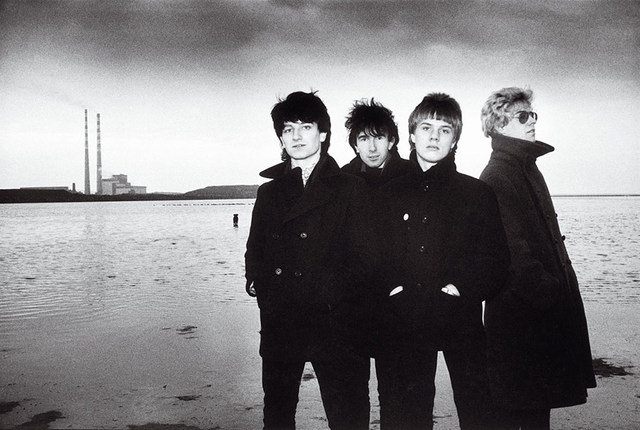 There they are, U2, ready for stardom. Look how young they are. Bono still has eyes! The Edge hasn't put on that silly hat yet!
Today, those smokestacks still stand proudly on Dublin's harbor. Clearly marking the location of Poolbeg Power Station, they serve as a city landmark and a city eyesore, depending on who you ask. The stacks are actually some distance from the beach itself, giving an urban backdrop to this otherwise suburban beach.
Dublin Smokestacks at High Tide
The Strand used to be home to Victorian saltwater baths. These baths were nothing but a long pier leading to a cement enclosure on the beach. The pier was built solely to keep the tender feet of upper class Victorian citizens out of the mud and silt of the beach as they walked to the deeper water of the sheltered baths. Rumor has it that the baths and pier were destroyed when it was discovered that unsavory young lads used to swim beneath the wooden pier to glance up the (laughably modest by today's standards) swimwear of the delicate Victorian ladies.
Today, the cement foundation is all that remains of the baths, no matter what actually caused them to fall into disuse and demolition.
Foundation of Victorian Baths
A pleasant and well-maintained sidewalk/trail/path follows the beach today. It is built up from the sand of the beach, but unusually strong tides can bring the surf up to splash the hapless joggers and dog-walkers out for a lunchtime stroll.
Strong Surf
When the tide isn't historically high, some pleasant beach time can be had... when it isn't winter coat weather.
Obligatory Cory-Looking-At-The-Water Shot
Ireland, with its rarely-below-freezing winters is home to a strange array of seemingly tropical plants. Many of the palm trees and succulents were brought here (the wealthy south side of Dublin) by rich families looking to show off their resources. The plants have spread and do rather well in the temperate climate. If one looks
very
closely at the photo below, it almost looks like this photo was taken on a tropical archipelago, not a windy and near-freezing beach in Northern Europe.
Tropical Paradise? Nope.
When the tide is down from historic highs, a vast stretch of sand and
mud
silt is left for visitors. Families with children and dog walkers come down at low tide to enjoy all the space. Low tide creates, after all, several extra acres of real estate in a very expensive part of the city. Who wouldn't take advantage of all this free land which is endlessly fascinating to kids and dogs alike?
Sandymount Sand
When the tide is down, all the bodies of shellfish and mollusks washed in from Dublin Bay settle to the surface of the tidal muck. This gives kids and me a beautiful (and crunchy) walking surface on which to explore the tide pools. Looking at all those hard (and sharp!) shells, it's no wonder the Victorians wanted to avoid walking in the sand. The sight of a single callous on a wealthy Victorian foot must have been an affront to the delicate sensibilities of...
A wide array of shells from different organisms can be found. Clams, oysters, snails, mussels, and razor clams (the long tubular shells) cover huge stretches of the coastline.
Shell Hell
The walkway runs up and down most of the coastline in southern Dublin and South County Dublin, giving residents a long stretch of scenic and uninterrupted trail for recreation and commuting.
Cory Looking-At-What-Little-Water-There-Is at Low Tide
...And maybe Bono stole the sunglasses from Adam Clayton that day on the beach. Who knows? Sandymount Strand very well could be an important site in Rock N Roll fashion history!
Gimme those sunglasses, yea?